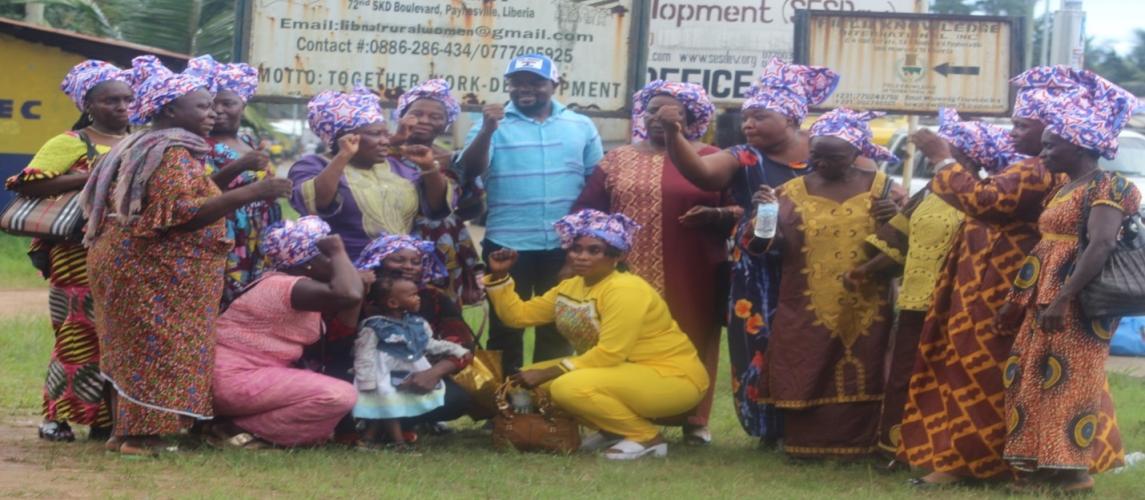 Government Puts Smiles On The Faces Of Rural Women
Press Release: Thursday: September 14, 2023: The Liberian Government's efforts to tackle the numerous challenges confronting the citizenry, including rural women, owners and operators of Small Medium Enterprises (SMEs) continue to yield the needed results.
 A case in point was the Monday, September 11, 2023 ceremony, when the Ministry of Commerce and Industry (MoCI) announced that it has begun the disbursement of USD$2m to rural women across the 15 counties.
The pronouncement was made at the office of the National Rural Women of Liberia along the 72nd Community in Paynesville.
In a brief overview of the program, Deputy Commerce Minister for Administration, Wilfred J.S.  Bangura, said President Weah is determined to always identify with needy Liberians in line with national efforts to improve their living conditions.
Mr. Bangura, deputizing for the Minister of Commerce and Industry (MoCI), Mawine Diggs described   rural women as important, strong, powerful, etc.
Deputy Minister Bangura said the rural women have the ability to make things happen, and on such basis, the Liberian leader has always assured them of giving the needed support.
He added that the assistance to the rural women will be extended to all the fifteen political sub-divisions of Liberia with each district receiving LRD$1m.
According to Deputy Minister Bangura, the essence of the idea, being undertaken by the government through the Ministry of Commerce and Industry is to ensure the realization of the vision of the National Rural Women of Liberia.
He also disclosed that other chapters, towns and villages of the rural women will benefit from the empowerment package.
For her part, the President of the National Rural Women of Liberia, Ma Kebbeh Monger, lauded the Liberian Government for the initiative.
Madam Monger and fellow rural women, overwhelmed with joy said they had no doubt about the Liberian leader fulfilling his promise to them.
"Every time some of our members raised the issue, I told them to be patient because I knew that   President Weah was not going to let us down," she observed.
Madam Monger also hailed the Ministry of Commerce and Industry for its efforts to work in the interest of the country.
Since the process began, disbursements have been made to market women in Margibi County, mainly at the Kakata and Harbel General Markets.
 Jacob N.B. Parley
Communications Director
Emails: jacobtheancestor@yahoo.com/jacobnbparley1@gmail.com
Contacts: +231777604576/+231886560455
WhatsApp: +231881336137